Migration & Re-engineering Services

BuildSharepoint offers world class test practice approach & a dedicated team to Innovate & disseminate testing methodologies. BuildSharepoint testing processes include process accelerators that not only improve the quality and speed to market, but also help you monitor overall project health throughout product development. BuildSharepoint QA process includes a stringent quality testing schedule to ensure the strictest adherence to client requirements and strict adherence to instructional design quality standards through robust internal instructional design reviews and application of style guides.
Collaborative relationships with clients and software vendors, Quality management and testing require a nuanced understanding of our clients' industries and specific needs.
BuildSharepoint provides a variety of testing across all levels for your applications and systems including: functional component integration, interface, data conversion, system and system integration, user acceptance, performance and security. We can also help you automate functional testing, performance & load testing and verify readiness for production.
We at BuildSharepoint use MANTIS bug tracking software & few robust tools to automate the supervised quality testing process and to minimize errors and testing time. BuildSharepoint approaches V Model testing. BuildSharepoint has a dedicated QA team to ensure quality standards are applied throughout the application. The QA team also delivers testing metrics analysis and feedback to the client at project closure.
Drawing on our extensive experience and comprehensive portfolio of quality management solutions and services, we can work with you to maximize the value of your existing IT investments, integrate new IT paradigms and address quality from a business perspective.
Product and Package Testing: BuildSharepoint helps you get a jump start in testing and successfully implements the products you need to support your business.
| | |
| --- | --- |
| Test Bed |   |
| Cross Browser Compatibility | IE 7.0, 8.0 / Mozilla FF (3.0.3) / Safari 2.0 (Mac OS). (.depending on requirement) |
| Operating System | Win XP / Win 2000 / MAC OSX |
| Resolution | 800 * 600, 1024 * 768 and Higher Resolution |
BuildSharePoint's QA and testing Expertise for SharePoint makes your investment in SharePoint worth and profitable, with following offerings: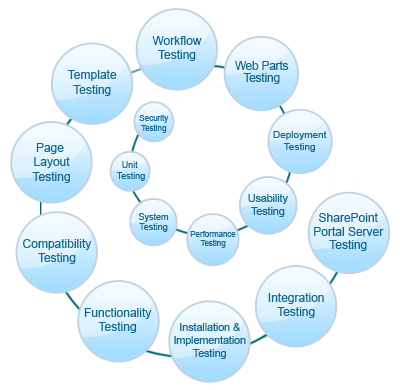 How BuildSharePoint implement it:
Identify project information and software components to be tested.
Recommend and describe testing strategy to be employed.
Identify right resources for the right job and derive a test effort estimate.
Define deliverable, dependencies and responsibilities.
Define the strategy to be adapted while testing and the activities to be performed.
Build test environment setup.
Identify associated risk.
Define the activities required to conduct testing at various platform layers.
Communicate the plan to entire team.
Benefits of working with BuildSharePoint:
QA and Testing services within short span of time without any compromise on quality and delivery schedule.
Get the work done from certified testing professionals.
Helps your organization to focus on your core business.
Ready-to-use secure setup and infrastructure, which optimizes your IT investments.
Leverage on high-quality QA and testing processes.